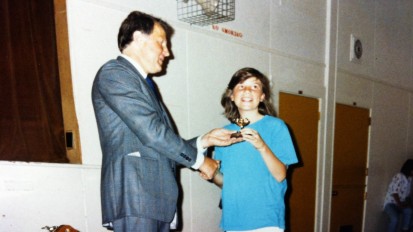 07 Sep

G Day Stories: Carmen Spagnola
The year I was 12 was a confusing one for me. It was the first year I ever heard someone refer to my stepfather as an "alcoholic". It was both scary and affirming at the same time. After that, I started to notice that the atmosphere in my home was very different from the way my friends seemed to live. Where I experienced yelling, jeering sarcasm, and fear of physical violence, I saw my friends get hugs, jokes, and conversation around the dinner table. I became embarrassed of where I came from and felt utterly alone. It seemed like I lived a double life; well-adjusted and successful at school but sad, lonely and scared at home.
But 12 was also the year I received my first award. On my last day of elementary school, at our graduating-to-middle-school ceremony, I was completely surprised to hear my name called for the final award of the day. It was the Leadership Award, recognizing the student who modeled not only academic excellence but also a strong sense of citizenship, offering support and encouragement to peers and younger students. I was taken aback to see my mother, grandmother and aunties in the audience applauding me and taking pictures.
When I think back now, I see that even though I felt alone, I really wasn't. I was lucky to have a few supportive family members. I had a couple of good friends and their parents (who probably suspected life wasn't so great at my house and invited me to stay for supper many, many times). I had a coach who put me on the team when I tried out for All-Star softball. I wasn't the most skilled, he said, but I was definitely the hardest worker. I was fortunate to have some teachers who saw my potential. I don't know if I really deserved the Leadership Award, but I do know that having my potential reflected back to me changed the way I saw myself.
I didn't think of myself as a leader until someone told me I was, or that I could be if I wanted. I'm grateful that I learned at an early age that I didn't have to be flawless or privileged to be a role model – I didn't need a picture-perfect life to succeed – I just had to care really deeply about something greater than myself.
—

Carmen Spagnola is this year's G Day Victoria Community Leader. She is a Registered Clinical Hypnotherapist specializing in mind-body-spirit integration. Carmen's passion for mythology, archetypes, storytelling and culture-building influence every area of her work whether she's presenting in high schools about depression and suicide, or training youth to connect with their inner wisdom. Carmen has led personal development workshops in four countries and is committed to spreading the G Day movement worldwide.