06 Nov

G Day 2: Play Big, Dream Bigger!

I am finally starting to come down from an incredible emotional high following the second G Day that took place this past Sunday Nov 2nd. This time we expanded our objectives to include parents and other Girl Champions and tried a new venue and format.

One of the things that I missed out on in the first G Day was having much time to connect with the girls. This time, thanks to Hilary Mandel ably leading the volunteers and Monica Morong (aka Mom Rapper "M.") being the fabulous MC, I was freed up to spend time with them, while leaving both jobs in the hands of superbly talented people.
Speaking of which, here's a smattering of what I learned: the girls self-declared superpowers include caring about the environment, feline communication, standing up to bullies and having the guts to sing in front of large groups of people. We also had a lively conversation comparing the relative difficulty of performing handsprings versus walkovers, and speculated about various ways to "fix all the problems in the world".
In response to their questions about a challenge I had overcome, I described my journey of becoming a businessperson and entrepreneur. There is just something so preciously unguarded about how they communicate and how they see themselves. For me, one of the main points of G Day is to encourage the girls to hold onto this amazing person that they are now, to cherish her dreams rather than starting to doubt them.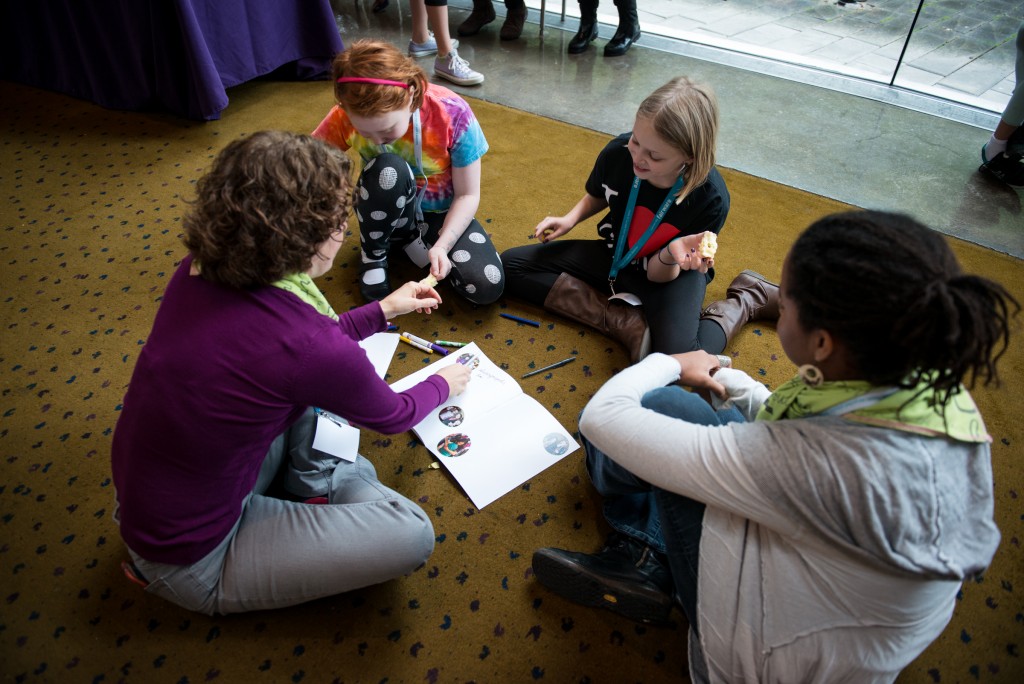 Behind the scenes, a highly skilled team that included my incredible business partner Suzanne Siemens, graphics and tech whiz Tiffany Ng (she designed our programs and workbook, and managed all of our media), admin & numbers superstar Kitty Wong, Gal Friday Intern Tanya Lee and Stage Manager Catherine Runnals were the ones truly running the show.
An extraordinary team of fully present, heart-led volunteers also generously joined us to hold space for and be mentors to the girls. Videographer Madeline Ell and photographer Wendy D joined us again to bring their considerable talents to capture the magic of the day in images. It would be remiss of me not to mention all of the lead-up work and day-of technical assistance contributed by the team at the Chan Centre for the Performing Arts that added up to an incredible, almost seamless experience.
As daunting as the challenge of doubling our attendee numbers three-quarters of the way through the day was,  I am beyond glad that we took it on to include Champions in G Day. Seeing the faces of the girls when they spotted their peeps was glorious, and there were some truly beautiful moments shared afterward.
I heard from more than one Champion that the meditation exercise led by Celebrant Tamara Cotton was a singular, highly moving experience, taking them back to reconnect with their adolescent selves in advance of greeting the girls. There is so much value in stepping outside of the traditional parent/child roles to just be people together, doing our best to deal with the overwhelm that can so often be our lives.
Another observation that really struck me was that the Champions are so much more than parents (grandparents, godparents etc) to their own daughters/girls: at G Day, we are all there for one another, collectively. This is the feeling that I loved the most, especially when the Champions gathered to witness the "girl stampede" that transpired in the lobby: suddenly, we were there for all of the girls, not just "ours".
Further to that point, in retrospect it really hit me just how well the space worked on a symbolic, as well as practical, level: the girls spent most of the day in their own space, a dance studio, then came out through the lobby (our virtual "passage", symbolizing the transition from childhood into adolescence), where they were welcomed by their parents and other "Villagers" there to cheer them on: and cheer we did!
All of the speakers and artists were incredible from start to finish, however in case you missed the front page of the Vancouver Sun (thank you Sandra Garcia!) the following day, the image of Theresa "Tree" Walsh leading the girls in what can only be described as an ecstatic frenzy, to me captures the spirit of G Day. Tree is basically a human version of catnip for girls: totally irresistible!
I also loved Anna Soole's sage wisdom about handling tough situations, Alex Mazerolle and Erin Treloar's powerful stories of overcoming body negativity to be healthy, whole and fully expressed, and Lynda Jao's touching expression of her abiding love for math, science and the wonders of the universe.
In the afternoon program, Father-daughter guitar duo Roland and Emma Nipp serenaded us, also providing a beautiful symbol of the Champions and Girls relationship, Tamara Cotton shared her vast knowledge about the importance of Rites of Passage in our lives, and Andrea Scott shared her memories of being 12 years old and how she felt "most truly was who I was meant to be" before leading the Girls and Champions in a powerful intergenerational conversation.
Rahael Yohannes courageously shared about experiencing racist bullying as an adolescent, as well as beautiful, heartfelt songs, Sapna Dayal returned to share the sequel to the first G Day's Ethiopian relationship, and M'Girl music graced us with their powerful harmonies and drumbeats.
Finally, our Lead Sponsor Susan Gibson closed the program with thoughtful words about her inspiration for supporting G Day before "M." returned for one more number, leading us all in her child-inspired tune "Play Big, Dream Bigger", an apt phrase that I kept on humming as I took my daughter's hand and headed home. Happy G Day, and hope to see you at the next one!